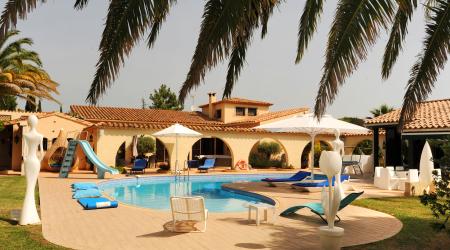 Mas dels esquirols
Languedoc-Roussillon Saint-André
Chambres d'hôtes 4 épis dans les Pyrénées Orientales. Entre mer et montagne, partez à la découverte des Pyrénées Catalanes. Le mas dels esquirols se trouve dans un parc de 6900 m2 clos arboré éclairé sonorisé avec de nombreuses places de…...
More info
Advertising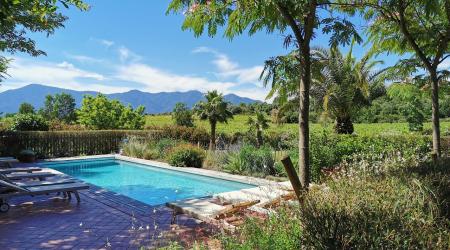 CLOS DES ASPRES
Languedoc-Roussillon Ortaffa
Our Charming Bed and Breakfast and cottage is the rare place, perfect place to revitalize for an escapade, a seminar or holidays in the quietness of southern france. We welcome you in a authentic Catalan wineyard house, completely renovated…...
More info
Advertising
Château d'Ortaffa
Languedoc-Roussillon Ortaffa
The charm of a big, beautiful Family House Restored and decorated over time by a French couple with a passion for antiques, ancient patinas and furnishings, this former wine-making château, built long ago over ramparts overlooking the village of…...
More info
Advertising
3 properties match your search criterias.
Guest Houses in Saint-André and nearby (within 35 km).
80 €
France > Languedoc-Roussillon > Pyrénées-Orientales > Saint-André
+33 (0) 6 84 97 13 79 | +33 (0) 6 07 97 49 48
Mas dels esquirols
From 80 €
Saint-André | 0.56 kms away from Saint-André
France Languedoc-Roussillon Pyrénées-Orientales
Chambres d'hôtes 4 épis dans les Pyrénées Orientales. Entre mer et montagne, partez à la découverte des Pyrénées Catalanes. Le mas dels esquirols se trouve dans un parc de 6900 m2 clos arboré éclairé sonorisé avec de nombreuses places de parking. Le mas dels…
More info
99 €
France > Languedoc-Roussillon > Pyrénées-Orientales > Ortaffa
+33 (0) 4 68 37 95 01 | +33 (0) 6 64 14 53 42
Château d'Ortaffa
From 99 €
Ortaffa | 4.75 kms away from Saint-André
France Languedoc-Roussillon Pyrénées-Orientales
The charm of a big, beautiful Family House Restored and decorated over time by a French couple with a passion for antiques, ancient patinas and furnishings, this former wine-making château, built long ago over ramparts overlooking the village of Ortaffa, has become an exceptional…
More info
90 €
France > Languedoc-Roussillon > Pyrénées-Orientales > Ortaffa
+33 (0) 4 68 95 70 74 | +33 (0) 6 09 66 17 31
CLOS DES ASPRES
From 90 €
Ortaffa | 6.26 kms away from Saint-André
France Languedoc-Roussillon Pyrénées-Orientales
Our Charming Bed and Breakfast and cottage is the rare place, perfect place to revitalize for an escapade, a seminar or holidays in the quietness of southern france. We welcome you in a authentic Catalan wineyard house, completely renovated where old and contemporary marry.…
More info