Maison du Chevalier des Huttes
Vic-sur-Cère |
15.45 kms away from Aurillac
Overview
Karine welcomes you together with Angelo at the Maison du Chevalier des Huttes, one of the emblematic historical buildings of Vic sur Cère - a green nature resort located in the heart of the Cantal, with the comfort and friendliness of a house restored with respect of the heritage and modernity.

You will share at the elegant guests table a healthy homemade food, based on a tasty and gourmet cuisine, and you will enjoy the peculiar garden for an urban dynamic and active stay in the Cantal region.

Please visit the website maisonduchevalierdeshuttes.com for any information you may need (incl. philosophy, room descriptions, guest table, prices and conditions).

Website
Services & Amenities

Bio products

Close to a golf course

Host's table

Non-smoking establishment

Wi-fi available

Private Parking

Credit cards accepted

Near the ski slopes

Remarkable Garden
Location & Access
4, passage du Chevalier des Huttes




15800

Vic-sur-Cère




France

Location

Cantal

City

Vic-sur-Cère

Nearby cities

| | |
| --- | --- |
| 15.45 | kms away from Aurillac |
| 32.89 | kms away from Chaudes-Aigues |
| 24.34 | kms away from Murat |
| 36.54 | kms away from Saint-Flour |

Environment

Village

Airport

Aurillac (intl) 396.89 kms

Directions

The House is located in the very heart of Vic sur Cère. By the road, you stay on the RN 122 from Aurillac or Murat, you reach the main square of the village where you will find the town hall; the House is on top of the fountain, in front of the eponym coffee shop. It takes 5 minutes to get to the House from Vic's train station. The closest airports are the following : Aurillac (20km), Clermont Ferrand (135km by highway) or Lyon (320km by highway), Brive (127km) and Rodez (100km).
Map
Rooms & Rates
3

Rooms
| Rates / Seasons | Low | Med | High | Very high |
| --- | --- | --- | --- | --- |
| Single occupancy | 145 € to 175 € | 145 € to 175 € | 145 € to 175 € | 145 € to 175 € |
| Double occupancy | 145 € to 175 € | 145 € to 175 € | 145 € to 175 € | 145 € to 175 € |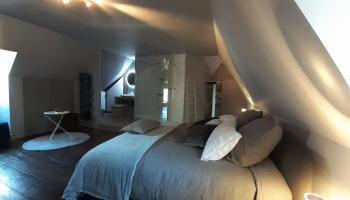 Chambre sous les Toits
Located at the 3rd floor, this modern, comfortable and huge room (ca 45 m²) aims at providing the most dynamic partners or three persons family a privileged place for functionality and wellness.
Price by season:
Low : 145 € | Med : 145 € | High : 145 € | Very high : 145 €
Chambre Grande Cheminée
Located at the 2nd floor, this suite, which combines elegance and comfort, is ideal for active couples or families with one or two children who look for a spacious, functional and bright room for their holidays.
Price by season:
Low : 165 € | Med : 165 € | High : 165 € | Very high : 165 €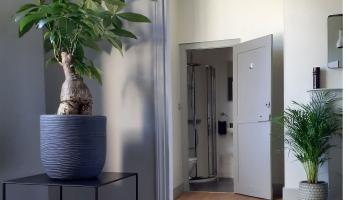 Appartement Bleu
At the 2nd floor, the rooms 'Bleue', with its warmth, snug atmosphere and Asian furniture, and 'A l'Echauguette', inspired by winter gardens, can be coupled in one lovely apartment (ca. 57m²) for one to four guests.
Price by season:
Low : 175 € | Med : 175 € | High : 175 € | Very high : 175 €
Themed Breaks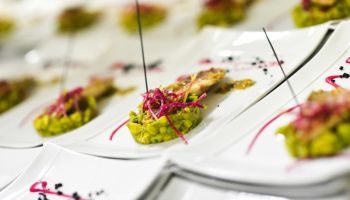 Gastronomy
Conviviality is essential, hence you will necessarily share the guests table, in the evening ; healthy organic home made food is served, based on a tasty and gourmet cuisine for a healthy and gourmet stay! The House has been labelled Qualité Tourisme by the French State.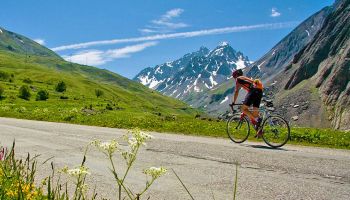 Sport & Hiking
Nestled in the middle of the 'Parc des Volcans d'Auvergne' and of the Cantal mountains, the Maison is close to the 'Puy Mary' and 'Plomb du Cantal' summits and the 'le Lioran' ski station. The village and the wider Auvergne region offer sport and outdoor wilderness tourism. The Maison can lend maps for your various outdoor trips.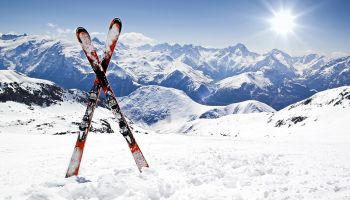 Mountain & Cocooning
The Maison du Chevalier des Huttes is situated close to the'le Lioran' ski station and to all mountain activities around.
Guest Reviews
5
4
Nous avons beaucoup apprécié le séjour passé chez Karine et Angélo, qui ont su rénover avec beaucoup de goût leur magnifique bâtisse aux épais murs de pierre, en réussissant à conserver son style initial tout en y ajoutant les éléments modernes qui lui donnent le confort que l'on attend aujourd'hui pour une chambre d'hôte. La table d'hôte a aussi fortement contribué à la réussite de notre séjour, Karine ayant à cœur de confectionner des menus savoureux et équilibrés à partir de produits le plus souvent bios et locaux, les spécialités du Cantal étant à l'honneur y compris aux petits-déjeuners. Enfin, l'accueil chaleureux et les enrichissantes discussions avec les maîtres de maison, ainsi que leur disponibilité et leurs précieux conseils pour découvrir la magnifique région du Cantal ont parfait notre séjour. Nous recommandons donc fortement de séjourner chez Karine et Angélo.

Chers Hélène et Bruno, Nous avons été sincèrement heureux de faire votre connaissance il y a peu et de partager un moment avec vous. Vos éloges nous touchent autant qu'elles nous motivent à continuer à recevoir nos hôtes avec toute la déférence, l'enthousiasme et la gourmandise qu'il nous tient à coeur de leur apporter. Nous espérons vous revoir dans le futur et vous souhaitons le meilleur pour cet été. Amitiés Karine et Angelo
J'ai passé 2 nuits et 3 jours chez Karine et Angelo à l'occasion d'un mariage dans cette superbe région. La Maison du Chevalier des Huttes, très bien située au centre du village mais à l'écart de la circulation, dispose d'un grand jardin. Il s'agit d'une belle demeure historique (pierres, lauzes, tourelles...) rénovée avec passion, gout et efficacité. Les chambres, chargées d'histoire, sont spacieuses, très confortables, super bien équipées en toutes choses, et même le wifi fonctionne parfaitement ! Le mobilier, les éclairages, les matériaux ont été choisis sur mesure et avec soin. L'accueil est extrêmement attentif et agréable, les meilleurs moments sont certainement les repas, pour lesquels Karine prépare tout elle même avec des produits du jardin et des producteurs alentours. C'est délicieux et toujours inventif ! Il y a beaucoup d'échanges autour de la table, dans une ambiance enjouée, positive et bienveillante. Si vous en avez l'occasion ne manquez pas cette halte à Vic sur Cère : je recommande la Maison du Chevalier des Huttes pour son raffinement et son humanité

Chère Marie-Pierre Merci pour ce retour élogieux ! Un plaisir pour nous aussi de vous recevoir et d'avoir pu faire découvrir la Maison à l'oeil expert qui est le vôtre. Vous êtes la bienvenue une prochaine fois vous le savez pour un séjour ou tout simplement pour un petit salut amical. Passez un bel été et prenez soin de vous, Amitiés Karine et Angelo
Que vous recherchiez un lieu charmant et raffiné où loger pour une escapade dans le Cantal, une table où déguster des mets gourmands mêlant tradition et gastronomie, ou tout simplement à passer une belle soirée, riche d'humanité... Ne cherchez plus ; arrêtez-vous chez Karine et Angelo. De quoi parfaire un séjour dans le Cantal, ou se faire une raison d'y aller... Merci aux hôtes.

Bonjour Théo Votre visite nous a enchantés également et nous laisse un souvenir aussi agréable que celui que vous avez emporté de nous. Angelo reste prêt à vous redonner le volant de la Spyder lors d'un séjour futur ;-) Un salut chaleureux à vos parents. Amitiés Karine et Angelo
Choisissant de traverser la France par les départementales, nous rencontrons Karine et Angelo. Nous nous souviendrons toujours de leur accueil, du soin apporté aussi bien à notre confort qu'aux repas, émaillés de conversations sans fin à propos de la cuisine et des produits. J'allais oublier la merveilleuse demeure qu'ils ont restaurée avec goût.
Contact & Reservation
We speak:

French

English

Italian

Spanish
This form allow you to contact the owner for more informations or to ask for a reservation.
---