VILLA CASA DEL SOLE
Favone |
7.89 kms away from Solenzara
Overview
The Villa Casa Del Sole in Favone opens you its doors, for an enchanting break!

Favone, small sea resort of the Corsican's South, in border of a beautiful gulf, is ideally situated, to 8 km of Solenzara, 25 km of Porto-Vecchio, 40 km of Bonifacio, without visit of Alta Rocca and see the famous mountains of Bavella

Gil et Geneviève Castellana, former's hoteliers restaurant managers and owners of this family's house, decided to let the nature take its course, to preserve what she had of more beautiful

Because what knocks at once, it's the style with the garden of 3000m2 planted with Mediterranean varieties

The swimming pool will allow you to relax in this haven of peace and tranquillity and the pergola will invite you in the relaxation for a moment of reading in the shade of rosebushes, Jasmines and wisteria

Direction the beach in 7 MN in feet
On the fine sand or on the deckchairs of the private beach la Siesta in the shade of parasols to listen to the surf.
Now, it's late, the sunset into the bay, it is necessary to return.

Since the terrace of the lounge, the sunrises will never be so beautiful.

In the morning, breakfast on the terrace in front of the sea. Refined earthenware's reminding the colors of citrus fruits, wink of eye in the front walls of the facade of the house, the beautiful part to the old silverware for the service of the hot drinks, the jams house, croissants and similar products, breads, organic fruit juice and cheeses premises, yoghurts, fresh fruit, cereal infringe you.

You can order the basket picnics so-style – it's good to know, for a day of excursion in mountain or to take up residence on one of the beach.
Website
Services & Amenities

Air conditioning

Bio products

Private pool

Non-smoking establishment

Wi-fi available

Private Parking

Trekking / Hiking

Panoramic / Stunning Views
Location & Access
-




20144

Favone




France

Location

Corse-du-Sud

City

Favone

Nearby cities

| | |
| --- | --- |
| 102.2 | kms away from Bastia |
| 48.55 | kms away from Bonifacio |
| 10.58 | kms away from Pinarellu |
| 23.71 | kms away from Porto-Vecchio |
| 7.89 | kms away from Solenzara |

Environment

Sea

Airport

Figari Sud Corse (intl) 24.94 kms

Directions

You arrive by : - airport of Figari or Port of Porto-Vecchio: direction Solenzara by the road of Bastia T 10 (ex RN 198) by following the seaside - Cross the Village of Favone, after the bridge at the level of the residence Lisa Maria take to the left the private way (approximately 45mn) - Airport of Bastia Poretta or Port of Bastia: Direction Solenzara by the road of Bastia T 10 (ex RN 198) by following the seaside – Continued by Solenzara, cross the Village Canelle, after the Panel Favone, take to the right the Private way (approximately 1:30 am)
Map
Rooms & Rates
3

Rooms
| Rates / Seasons | Low | Med | High | Very high |
| --- | --- | --- | --- | --- |
| Single occupancy | 108 € to 126 € | 135 € to 184 € | 184 € to 227 € | 220 € to 256 € |
| Double occupancy | 108 € to 126 € | 135 € to 184 € | 184 € to 207 € | 220 € to 256 € |
SUITE ALIMEA 2 persons (garden view)
(30m2) air-conditioned with a big bed - Safe - TV LCD, Bathroom with Shower, Private Toilets, Hairdryer, Bathroom Linens, Bathrobes, Coffee Machine Nespresso – Kettle, refrigerator, Board and iron, WiFi, Terrace & Independent entrance, Parking
Price by season:
Low : 126 € | Med : 171 € | High : 198 € | Very high : 225 €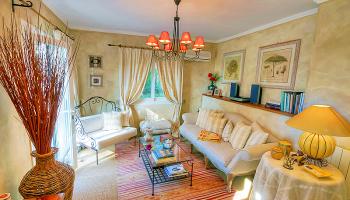 SUITE PIGNOTTU 2 pax (swimming Pool view)
(44m2) Suite air-conditioned with a big bed (140cm) - Safe, Bathroom with shower TOILETS hairdryer, Lounge with TV LCD - DVD - Mini hi-fi system, equipped Kitchen area - Coffee machine Nespresso - Kettle... Privative Terrace Board and iron, WiFi
Price by season:
Low : 144 € | Med : 189 € | High : 225 € | Very high : 261 €
SUITE ALIVI 2 persons (garden view)
(27m2) air-conditioned King Size or twin beds - Safe - TV LCD, Bathroom with Shower / Toilets, Hairdryer, Bathroom Linens, Bathrobes, Coffee Machine Nespresso – Kettle, refrigerator, Board and iron, WiFi, Terrace & Independent entrance, Parking
Price by season:
Low : 126 € | Med : 171 € | High : 198 € | Very high : 225 €
Themed Breaks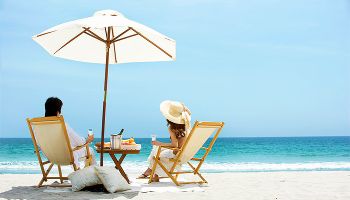 Sea & Relax
Villa Casa Del Sole is located 7 minutes walk from a sandy beach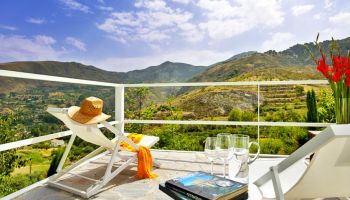 B&B with breathtaking view
Villa Casa Del Sole enjoys exceptional sea views
Guest Reviews
5
11
Nous avons passé seulement 2 nuits dans la demeure de Gilles et Genevieve. Il ont eu l'occasion de nous impressionner sur de nombreux points.. Le petit déjeuner est presque entièrement fait maison, les chambres, "no comment" , voir photos ;) et leur accueil est plus que digne de leur expérience de toute une vie dans le monde de l'hôtellerie.
Nous avons passé un séjour magnifique à la Casa Del Sole. C'est un gite exceptionnel d'un très grand confort dans un cadre splendide avec un très beau jardin et une belle piscine. Les chambres sont très joliment décorées et tout est prévu en terme d'équipement, jusqu'au parasol et à la petit glacière qui permet d'emporter de petites bouteilles d'eau pour les garder au frais sur la plage. Nous avons profité du magnifique panier pique-nique ainsi de la journée transat offerte sur la plage de Favone. Nos hôtes nous ont guidé avec de précieux conseils pour les restaurants alentours tout en se chargeant des réservations. Enfin je ne saurais que comparer le petit déjeuner à celui d'établissement de luxe. Pris sur la terrasse avec vue sur la mer, tout y est parfait, avec des produits de grande qualité, des patisseries maisons qui changent tous les jours. Nous recommandons chaudement cette chambre d'hôtes à tous ceux qui veulent profiter de cette étape de rêve.
Il est des lieux, dont on attend des prestations de qualités. Un accueil sympathique; une belle chambre; des conseils sur la gastronomie locale, les lieux à visiter, les bonnes adresses; et un petit déjeuner au niveau. Vous trouverez tout çela à la casa del sole. Connaissance du terroir, confitures maisons, produits locaux ( fromages,pâte à tartiner), pâtisserie maison, oeufs frais, diverses informations, réservation dans les restaurants locaux, etc, etc... En ce qui concerne le cadre, les photos parlent d'elles-même. La casa del sole est donc un endroit parfait pour profiter des beautés de l'île Corse. Pour tout ça, Gilles et Geneviève, merci. Claire et Stéphane.
Le top le must. Une suite (PIGNOTTU) cosy en diable, une terrasse privative superbe, une literie de haute gamme, des petits déjeuner 5 étoiles face à la mer sur une terrasse magnifique. Bref que du bonheur. Rajoutez à ça des hôtes charmants, disponibles, bienveillants, donnant des conseils judicieux. Le tout entouré d'un splendide jardin avec une belle piscine. N'hésitez pas à commander le panier pique nique ça vaut le détour. Encore merci à eux deux
Nous avons séjourné en couple la première semaine de septembre. Tout est disponible pour passer un excellent séjour: Depuis l'ensemble des équipements électro-ménager (dont une machine à laver le linge) jusqu'aux petites attentions gastronomico-pratiques (cap corse, petits gâteaux, chapeaux de paille, etc.). Les petits déjeuners sur la terrasse, offrent, outre une douce sensation au fond de l'estomac, un plaisir aux yeux: la vue sur le jardin et la baie est magnifique. C'est un moment très agréable propice aussi aux échanges et aux bons conseils des hôtes. Mention spéciale aussi pour le panier pique-nique: une très bonne idée pour gouter de bons produits locaux, avec tous les ustensiles nécessaires. Tous nos remerciements aussi à nos hôtes qui nous ont orienté vers tous les bons restaurants en proximité, et qui prenaient aussi la peine de réserver pour nous: nous étions toujours très bien placés du coup.
Top. Gil et Geneviève font en sorte que leurs hôtes soient directement à l'aise afin de profiter un maximum du séjour. Le petit-déjeuner au soleil au cours duquel on partage les expériences de la veille et on reçoit les trucs et astuces pour la journée à venir est très agréable. Belle découverte comme la Corse ou nous nous rendions pour la première fois. Au plaisir !
Lieu exceptionnel, cadre exceptionnel et accueil exceptionnel! Plus qu'une chambre d'hôte, il s'agit presque d'un appartement aux prestations irréprochables avec une vue sur la splendide piscine, terrasse privative et calme assuré. C'est surtout l'accueil et la présence de Gilles et Geneviève qui s'accordent à merveille avec le mot exceptionnel. Nous sommes ressortis enrichis et ravis de cette savoureuse rencontre entre discrétion disponibilité et générosité, deux âmes à ne manquer sous aucun prétexte à la hauteur de leur goût pour l'art en général, et culinaire en particulier, chaque met du petit déjeuner étant une expérience savoureuse de plus pour ce séjour inoubliable. Christine et Julien
Voilà une maison où il fait bon venir pour se ressourcer. Geneviève et Gilles nous ont reçus avec beaucoup de gentillesse, chaleureusement et en toute simplicité. L'endroit est idéal pour profiter des superbes plages mais aussi pour se balader dans la montagne Corse. Le jardin est magnifique et il faut prendre un peu de temps pour admirer toutes les espèces plantées avec beaucoup d'amour et de passion. La suite indépendante de la maison donne directement sur le jardin et la piscine, elle est spacieuse, équipée et entretenue par la maitresse de maison comme dans un très bon hôtel mais personnalisée comme à la maison...Les nuits sont très calmes et le matin un pur moment de délice et de raffinement vous attend....superbe lever de soleil sur la terrasse en compagnie de Geneviève et Gilles, qui vont vous dorloter mieux que dans un "étoilé", belle vaisselle et argenterie, café, thés "mariage", jus de fruit, salade de fruits frais, viennoiseries et petits pains délicieux, gâteaux, confitures et miel maison, fromages, yaourt, bref je vous conseille un diner léger pour pouvoir profiter de toutes ces bonnes choses. Vous avez compris nous avons passé un délicieux séjour à la Casa del Sol.
Chambre d'hôte de charme d'une grande délicatesse dans sa décoration et parfaitement équipée, chaleureuse et généreuse rencontre avec nos hôtes, jardin paradisiaque, petit déjeuner exceptionnel accompagné d'une nouvelle découverte gustative chaque jour...n'hésitez surtout pas découvrez cet Oasis Corse !
Nous avons adoré Villa Casa del Sol, un petit coin paradisiaque, nous avons adoré, chambre pleine de charme et très confortable (très bien équipée), hôtes charmants, ouverts très attentionnés. Petit-déjeuner délicieux en terrasse vue sur mer exceptionnelle au coeur d'un jardin magnifique...un lieu intime et généreux à découvrir absolument!
Avant tout, de belles rencontres... Rencontre avec la Corse, belle, surprenante, variée, mystérieuse, les Corses sont accueillants et spontanés. Et surtout, rencontre avec nos hôtes. Nous choisissons souvent (et même toujours depuis qq. temps) des chambres d'hôtes lors de nos périples. Cette fois, c'était chez Gene et Gil... Des gens attentionnés, attentifs, tout en restant discrets, des gens intéressants, de bon conseil, présents mais jamais trop. Ah, le petit-déj sur la terrasse, face à la mer et sous le soleil... Bref, vraiment une très belle rencontre, presque comme chez des amis. L'endroit est superbe, arbres fruitiers, palmiers, plantes, la chambre (3 pièces) très propre et déco de très bon goût, équipement irréprochable (wi-fi, 2 TV, DVD, hi-fi, Nespresso, lave-vaisselle,lave-linge et j'en passe !). Si nous devions donner un seul point négatif... nous ne saurions pas ! Il n'y a aucune hésitation à avoir, si vous voulez vous plaire en Corse, il faut passer à la Casa Del Sole.
Contact & Reservation
We speak:

French

English

Italian
Annual closing:
January 1 st to March 15 th
This form allow you to contact the owner for more informations or to ask for a reservation.
---