La Bruyle
Saint-Michel-de-Bannières |
19.96 kms away from Rocamadour
Overview
This former coaching house, dating right back to the eighteenth century, offers you a welcome and comfortable break in scenic surroundings and within easy reach of tourist sites in the Dordogne Valley.

Just outside the market town of Saint Michel de Bannières, the house looks out onto a panorama as far as the eye can see. The house itself opens onto a garden terrace and then to a wooded meadow of half a hectare where the swimming pool will offer you cool relaxation.

La Bruyle charming B&B has four rooms which blend modern comfort with the enchantment of yesteryear. Comfortable, intimate and elegant, each room has been decorated in a rustic style providing a distinct atmosphere.

At this special moment of the day, the breakfast we offer will set your taste buds going. Depending on the season, it will include fruits of the garden, a cake according to the inspiration of the moment, house yoghurt…, the irresistible home-made La Bruyle jams, a wide choice of leaf teas, coffee, farm eggs…

Our house style being to create a place of meeting and exchange, Pascale and Franck invite you to share some moments of conviviality around our dinner table. We offer you home cooking celebrating the taste of local and seasonal produce, from market or farm.

Located in the Dordogne Valley, our house lies next to the Regional National Park of the Causses du Quercy, with the villages of Rocamadour, Padirac, Collonges La Rouge and Martel as its close neighbours.
Website
Services & Amenities

Close to a golf course

Private pool

Host's table

Non-smoking establishment

Wi-fi available

Private Parking

Credit cards accepted

Massage services

Trekking / Hiking

Loan or Rent Bicycles

Panoramic / Stunning Views
Location & Access
Lieu dit Colonjac




46110

Saint-Michel-de-Bannières




France

Location

Lot

City

Saint-Michel-de-Bannières

Nearby cities

| | |
| --- | --- |
| 10.53 | kms away from Collonges-la-Rouge |
| 24.48 | kms away from Martel |
| 16.62 | kms away from Padirac |
| 19.96 | kms away from Rocamadour |
| 37.87 | kms away from Sarlat |

Environment

Countryside

Airport

Toulouse-Blagnac (intl) 150.99 kms

Directions

La Bruyle is located in St Michel de Bannières, 30k from Brive la Gaillarde on the St Céré road. Our GPS location :N44°58'28''/E1°40'49'' or Saint Michel de bannières / Colonjac Coming from the north on the A20 motorway: after Brive la Gaillarde, take the exit 52 marked Noailles and follow in the direction of St Céré, using the roads D158, D8 and D720. When you arrive in St Michel and facing the church, follow the signs for St Denis les Martel (D100). Our house (recognisable from its green shutters) is situated about 500m after the exit sign for the village you will see on your right. Coming from the south on the A20 motorway, leave at exit 55 and follow signs for Martel, then Vayrac. In St Denis les Martel, turn left in the direction of Les Quatre Routes du Lot, then follow signs for St Michel. The house (recognizable from its green shutters) is situated 500m before the entrance to the village.
Map
Rooms & Rates
4

Rooms
| Rates / Seasons | Low | Med | High | Very high |
| --- | --- | --- | --- | --- |
| Single occupancy | 83 € to 110 € | 83 € to 110 € | 93 € to 120 € | 93 € to 120 € |
| Double occupancy | 93 € to 120 € | 93 € to 120 € | 103 € to 130 € | 103 € to 130 € |
Colonjac
The most spacious guest room, king-size bed (180×200) or twin beds, additional bed for child (until 5 years), italian-style rain shower, private retro-style bathroom, independent wc
Price by season:
Low : 110 € | High : 120 €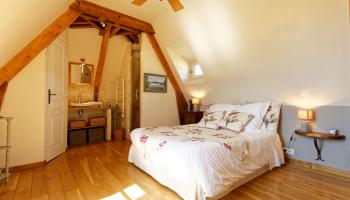 Mulsans
In this guestroom of flower decoration in tones of slate and ivory, you will not fail to be impressed by the structure of wooden beams, typical of farmhouses. bed 140×190, Spacious rain shower with drenching head, independent wc
Price by season:
Low : 85 € | High : 95 €
Sabias
Along with its slightly whitened beams, this guestroom has a palette of soft blues… king-size bed (180×200) or twin beds, italian-style rain shower, independent wc
Price by season:
Low : 95 € | High : 105 €
Themed Breaks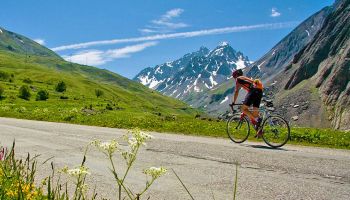 Sport & Hiking
For nature lovers, the Dordogne Valley provides you with an area of unspoilt nature which you can explore on foot or by bicycle. Multiple GR and walking trails. A small hiking trail passes right by La Bruyle. Possibility to rent bicycles to be delivered to La Bruyle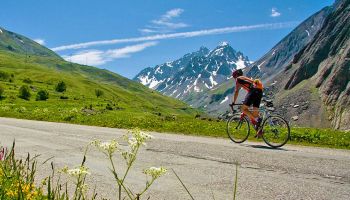 Sport & Hiking
Canoe-kayak: there are routes for the energetically sporty or waterways which wind more gently through this grandiose countryside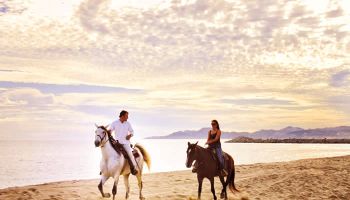 Horse Riding
Horseback: since we are ourselves rambler-riders, we belong to 2 equestrian centres
Breathtaking view
La Bruyle offers a magnificent view of the hills
Guest Reviews
5
11
Nous avons passé 4 jours en famille à la Bruyle en cette fin du mois d'août, et ce fut en tous points un vrai délice. A commencer par le chaleureux accueil de Pascale et Franck, toujours disponibles et d'excellents conseils pour visiter les environs. Nous avons profité de leur belle piscine avec bonheur chaque matin, apprécié le confort de nos chambres si joliment décorées, dégusté le délicieux petit déjeuner pris au jardin et composé de produits frais et faits maison. Leur belle demeure est située dans un cadre idyllique, avec une vue magnifique sur les collines environnantes. Merci infiniment à vous, Pascale et Franck, de nous avoir réservé un bel accueil et de nous avoir permis de terminer nos vacances en beauté !
Nous sommes arrivés à La Bruyle vers 17H après une visite assez torride (38/40°C) des Eyzies et de la Roque-Gageac. Nous avons beaucoup aimé le calme de cette très belle propriété, en dehors du bruit des villes. Nous avons été accueillis par Frank et Pascale avec beaucoup de gentillesse. Nous avons apprécié les très belles chambres, décorées avec beaucoup de goȗt, un apéritif maison avec des rillettes de canard d'une ferme voisine et les discussions pendant un excellent dîner. Nos amis américains, à qui nous faisions visiter le Périgord depuis une semaine sont repartis conquis et les bras remplis de boites de rillettes et de foie gras, sur les conseils de Pascale et Frank. Nous reviendrons l'année prochaine avec un grand plaisir.

Nous sommes ravis d'avoir pu vous faire partager notre demeure et les spécialités culinaires de notre région. C'était un réel plaisir pour nous de vous avoir rencontrer et nous gardons un excellent souvenir de ce dîner avec vos amis américains. A bientôt pour prolonger ces moments chaleureux. Bien à vous. Pascale & Franck
Nous avons passé 48 heures très agréables à la Bruyle. Pascale et Franck, nos hôtes, sont chaleureux et de bon conseil pour aller visiter la région sans nécessairement suivre les chemins touristiques ultra fréquentés. Notre dîner en leur compagnie et celle des autres convives a été un beau moment dont nous nous souviendrons, avec de belles conversations agrémentées d'une belle table, et d'un bien bon vin! Nous garderons La Bruyle en tête si nous étions amenés à revenir dans la région!

Nous adorons les dîners en table d'hôtes car ils sont souvent des moments privilégiés de convivialités et de partages culinaires. Nous avons eu plaisir à vous accueillir et faire découvrir notre région. A bientôt peut-être. Bien chaleureusement. Pascale & Franck
Pascale et Franck assument avec générosité et sincérité leur rôle d'hôtes. C'est bien ce qui fait le charme et la douceur d'un séjour à La Bruyle au delà de l'authenticité de la demeurre et de la richesse touristique de la région. Nous espérons y revenir séjourner bientôt.

Merci Laurent pour ces mots bien chaleureux à lire. Nous les conservons comme des petites bûches pour chauffer notre hiver. Au plaisir de se revoir. Bien à vous
Pascale et Franck sont adorables! Leur maison l'est tout autant, une véritable oasis. Là-bas règnent le savoir-vivre, le souci de bien faire et de bien-être, la sollicitude, la détente, la sérénité. Notre chambre (Colonjac) est spacieuse, confortable, de caractère et offre une belle vue de deux côtés, notamment vers le jardin, la piscine et le lointain. Les petits déjeuners au jardin lancent la journée de la meilleure manière. La piscine, vaste et confortable, ne demande qu'à vous accueillir. La propriété dans son ensemble distille une atmosphère de bien-être. Et la table d'hôtes permet de terminer la journée en toute qualité et convivialité (très fort le coup de remplacer l'agneau au dernier moment, Pascale!). Merci Pascale et Franck, bonne continuation et à bientôt!

Laurence, Daniel, votre long séjour à La Bruyle nous a permis de faire plus ample connaissance pour notre plus grand plaisir. Merci pour ce commentaire dont les termes nous parlent bien car ils évoquent le style d'accueil que nous souhaitons offrir. Vous nous donnez envie de continuer dans cette voie. La Bruyle vous retrouvera avec grand bonheur! Pascale & Franck
Nous sommes allés passer un week-end dans le Lot pour (re)voir Rocamadour et ses alentours, belle région. Nous avons dormi à Saint Michel de Bannières, à la Bruyle, une charmante demeure. Les photos sur le site nous avaient données envie d'y aller ... Très bon accueil, chambre très agréable, jolie décoration, magnifique jardin et belle piscine !! Bref, si vous visitez la région et ne savez pas où dormir, nous vous recommandons cet endroit !!
Nous prenons plaisir à passer quelques jours à la Bruyle tous les ans. Les chambres y sont confortables, spatieuses et décorées avec goût. L'accueil chaleureux de Pascale et Franck est toujours au rendez-vous. La cuisine est aussi un régal. En résumé, un séjour à la Bruyle est un bon remède avec détente et bien-être.
De passage entre le Cantal et Brive-la-Gaillarde, nous avons passé juste une nuit à La Bruyle. Cependant, Pascale et Franck nous ont réservé un accueil très agréable qui nous donne envie de revenir. Nous avions réservé la chambre Frécul mais en arrivant Pascale nous a demandé si cela ne nous dérangeait pas d'occuper la chambre Sabias car des hôtes avaient souhaité prolonger leur séjour dans "notre" chambre ! Nous avons gagné au change car la chambre Sabias bénéficie d'une double exposition, d'un lit de 180 de très grande qualité et elle est décorée dans des tons bleus très doux. D'ailleurs toute la maison révèle un goût très sûr. Nous avons apprécié le petit réfrigérateur situé dans une remise dans lequel nous avons pu mettre au frais les quelques victuailles que nous avions dans notre voiture. Ensuite nous avons eu le temps d'une escapade à Martel, une jolie cité médiévale située à 20 km. A notre retour, nous avons dîné dans le jardin d'une assiette comprenant melon, foie gras maison, magret fumé, tomates, Cabecou venant de la ferme voisine et salade de pêches. Le tout avec un verre de Cahors, la sympathique conversation de Franck et avec la vue sur la campagne environnante. Que demander de mieux ?
La Bruyle est un petit coin du paradis. Une très belle maison, décorée avec beaucoup de charme. Le petit-déjeuner: Chaque matin une petite surprise. Les confitures (faites maison!) sont délicieuses. Le terrain est bien entretenu. La piscine est un plus.Le paysage et les petits villages sont très jolis. Mais même plus important: Pascale et Franck sont des hôtes parfaits: l'accueil chaleureux, la complaisance et les renseignements précieux. Au revoir - très rapide!!!
Une maison magnifique au calme au milieu des champs, facile à trouver avec les coordonnées GPS indiquées. Une situation très pratique pour visiter les nombreux lieux touristiques de la région. Nous avons été très gentiment reçues par la maitresse de maison qui nous a installées dans une très belle chambre bien décorée, confortable et préparée en twin selon le souhait que nous avions formulé à la réservation. Nous avons partagé un excellent dîner avec nos hôtes vraiment charmants et sympathiques. Le petit déjeuner était également très bien. Une excellente adresse où nous retournerions volontiers.
Contact & Reservation
We speak:

French

English
This form allow you to contact the owner for more informations or to ask for a reservation.
---