Le Chalet de l'Imaginaire
Provence-Alps-French Riviera Saint-Julien-du-Verdon
Le Chalet de l'Imaginaire, waterfront, in the heart of the Natural Verdon Valley. The luxurious chalet is situated in the Alpes de Haute Provence, 100km north of Cannes and Nice, close to the ski stations and the Gorges du…...
More info
Advertising
Le Hameau de Pichovet
Provence-Alps-French Riviera Vachères
Nestled in the Luberon Regional ntural Park, the Mameau de Pichovet is a set of5 fully restored buidings, combining authenticity and modernity. Located in a natural setting, in the heart of lavender fields and landscapes dear to Giono. Far…...
More info
Advertising
3 properties match your search criterias.
70 €
France > Provence-Alps-French Riviera > Alpes-de-Haute-Provence > Saint-Julien-du-Verdon
+33 (0) 4 92 89 05 93 | +33 (0) 6 08 83 84 97
Le Chalet de l'Imaginaire
From 70 €
Saint-Julien-du-Verdon | 7.4 kms away from Castellane
France Provence-Alps-French Riviera Alpes-de-Haute-Provence
Le Chalet de l'Imaginaire, waterfront, in the heart of the Natural Verdon Valley. The luxurious chalet is situated in the Alpes de Haute Provence, 100km north of Cannes and Nice, close to the ski stations and the Gorges du Verdon. With its full…
More info
115 €
France > Provence-Alps-French Riviera > Alpes-de-Haute-Provence > Vachères
+33 (0) 4 92 73 33 48 | +33 (0) 6 87 33 40 41
Le Hameau de Pichovet
From 115 €
Vachères | 50.07 kms away from Aix-en-Provence
France Provence-Alps-French Riviera Alpes-de-Haute-Provence
Nestled in the Luberon Regional ntural Park, the Mameau de Pichovet is a set of5 fully restored buidings, combining authenticity and modernity. Located in a natural setting, in the heart of lavender fields and landscapes dear to Giono. Far away from any nuisance, serenity…
More info
70 €
France > Provence-Alps-French Riviera > Alpes-de-Haute-Provence > Châteauneuf-Val-Saint-Donat
+33 (0) 4 92 62 53 33 | +33 (0) 6 09 69 20 19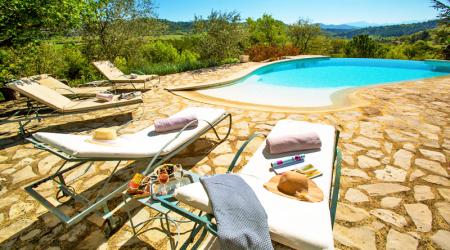 Le Jas de Péguier
From 70 €
Châteauneuf-Val-Saint-Donat | 5.03 kms away from Aubignosc
France Provence-Alps-French Riviera Alpes-de-Haute-Provence
The Jas de Péguier is located in the heart of the Forcalquier area, at the doorstep of the Durance, backing onto the Lure mountain. These old stone building dating back to 17th century are a unique set-up combining authenticity. Peace and quiet, sun…
More info