Ribourdin Castle
Burgundy Chevannes
Marie-Claude and Claude Brodard invite you to enjoy the calm of the countryside in Château de Ribourdin in the village of Chevannes. The 5 air-conditioned guest rooms await you in the outbuildings of this 16th-century castle. Each…...
More info
Advertising
3 properties match your search criterias.
Guest Houses in Villefargeau and nearby (within 35 km).
160 €
France > Burgundy > Yonne > Villefargeau
+33 (0) 3 86 41 32 82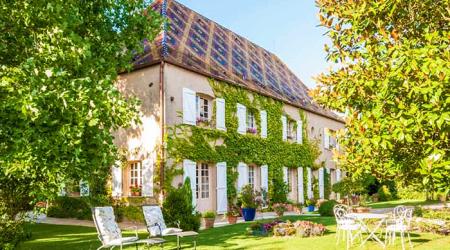 Le Petit Manoir des Bruyeres
From 160 €
Villefargeau | 3.11 kms away from Villefargeau
France Burgundy Yonne
Beautiful house in Burgundy for lovers of refinement, calm, friendly and beautiful nature in a privileged area on the edge of a beautiful forest. Aviaries with golden pheasants, pigeons and British chickens. In a closed basin, wood and mandarin duck with beautiful colors.…
More info
67 €
France > Burgundy > Yonne > Chevannes
+33 (0) 3 86 41 23 16
Ribourdin Castle
From 67 €
Chevannes | 3.67 kms away from Villefargeau
France Burgundy Yonne
Marie-Claude and Claude Brodard invite you to enjoy the calm of the countryside in Château de Ribourdin in the village of Chevannes. The 5 air-conditioned guest rooms await you in the outbuildings of this 16th-century castle. Each of the five rooms, spacious…
More info
85 €
France > Burgundy > Yonne > Chevannes
+33 (0) 3 86 33 71 90 | +33 (0) 6 86 26 46 59
La Barbotière
From 85 €
Chevannes | 3.87 kms away from Villefargeau
France Burgundy Yonne
Welcome at La Barbotière. Bed and Breakfast in Burgundy close to the vineyards of Chablis. Guest house in an old farm, overlooking the fields and refreshed by a stream. Enjoying calm and rest between Chablis, Vézelay and Saint-Fargeau in Northern Burgundy. A stream…
More info